Program Overview
The Game Development program offers two pathways – a certificate of achievement and an AS degree. The program provides a course of study that prepares students to design and program interactive computer games. The required curriculum focuses on the history of games, gameplay design, user experience, and coding.
Program Student Learning Outcomes
Upon successful completion of this program, the student will be able to:
Apply systems-level thinking and abstraction in the context of interactive computational media.
Recognize and understand the social, legal, ethical, and cultural issues in the discipline of computer games.
Demonstrate knowledge of visual interaction design and artistic practices in domains involving playful interactions.
Demonstrate written and oral communication skills regarding technical and analytical consideration of computer games.
Design a technical system that achieves creative goals for audience experience in computational media.
Demonstrate the ability to collaboratively plan, organize, and execute complex, team-oriented projects, using appropriate communication and coordination techniques.
GAME DEV BOOT CAMP
We are pleased to offer an accelerated 26-week game development boot camp.
» Learn more about the SRJC Game Dev Boot Camp
---
Certificate
The 17-unit Game Development Certificate of Achievement leads to entrepreneurial opportunities for a self-made career in the video game industry.
» Learn more about the certificate requirements
---
Degree
The 25-unit Game Development AS Degree provides a course of study that prepares students to transfer to a four-year degree program focusing on the design and programming of interactive computer games and leading to a career in the game development industry.
» Learn more about the degree requirements
Recent Graduates
"The instructors are real world game developers who also happen to be professors. They bring their experience into teaching and mentoring... I experienced the most gentle and supportive environment I've ever experienced in an online course."
— Recent Game Program Student
Graduates of this program have gone on to continue their education at four-year schools such as UC Santa Cruz and CSU Chico, secure employment at studios such as 2K Games, and self-publish independent game titles.
Career Paths
The San Francisco Bay Area is one of the three leading regions worldwide for game development careers, both by number of companies and employees.
Job titles include:
Content Designer
Game Designer
Game Programmer
Game Tester
Graphics Engineer
Level Designer
Multimedia Artist / Animator
World Designer
» Learn more about Multimedia Artist / Animator careers
Contact Information
Game Development Program
Computer Studies Department
Ethan Wilde
Game Development Program Coordinator
ewilde@santarosa.edu
(707) 527-4855
Maggini Hall 3rd Floor, Room 2937, CS Dept Office
Program Literature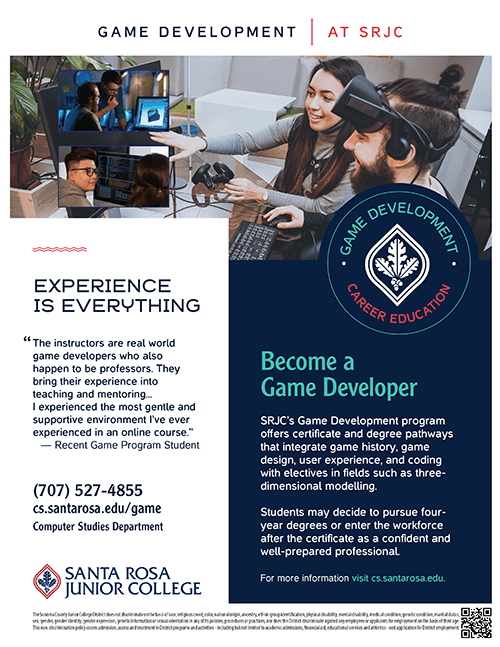 Online Resources