Program Overview
Thanks to new technologies, networks are becoming more intelligent, programmable and software-driven. Networking Academy courses support this evolution and expose learners to new concepts and hands-on experiences. Best of all, courses are tied to CCNA certifications—among the most in-demand in the industry, according to IDC. Get started by choosing a course today.
The Cisco Networking Academy™ Program is a comprehensive e-learning program that provides students with the Internet technology skills essential in a global economy. The Networking Academy Program delivers Web-based content, online assessment, student performance tracking, hands-on labs, instructor training and support, and preparation for industry-standard certifications.
Combining instructor-led, online education with hands-on laboratory exercises, the curriculum for the Cisco Certification Training in CCNA Skills Certificate enables students to apply what they learn in class while working on actual networks.
Cisco Certified Network Associate (CCNA) is a major step in the Cisco career certification pathway. The Cisco Networking Academy teaches the fundamentals of inter-network design, optimization, and security. That is, how to get separated computers and networks to communicate appropriately with one another. Students also learn the basics of router and switch configuration. Networking could be a good fit for you if you enjoy a mix of detailed planning, implementation and business-related matters.
---
Certificate
Network Administrators, consultants and help desk support personal, benefit from this series of classes. These jobs are migrating to "cloud" platforms and demand for proficient workers is fairly constant. Some students may complete these courses as a way to prepare for the CCNA exam, while others will enroll as an avenue for advancement in their current jobs.
See the Cisco Network Academy website for additional information about the types of courses taught at the SRJC Cisco Networking Academy.
Program Student Learning Outcomes
Upon successful completion of this program, the student will be able to:
Plan, design and install Ethernet Transmission Control Protocol/Internet Protocol (TCP/IP) Networks at the entry-level-technician.
Analyze and improve computer network performance and security on routers and switches.
Operate and troubleshoot Ethernet TCP/IP Networks at the entry-level-technician.
Demonstrate end-to-end protocol connectivity across a variety of Wide Area Network (WAN) and Local Area Network (LAN) protocol.
» Learn more about the Cisco Certification Training in CCNA Certificate requirements
Recent Graduates
"I was able to get a job here in Sonoma County as a result of the CCNA program I took. The knowledge I got from your classes is extremely valuable here. Again thank you!"
— Recent program graduate
Graduates of this program have gone on to work as network technicians throughout Sonoma County and beyond.
Career Paths
Be prepared for the possible six-hour interview with knowledge about VLANs, STP, and 802.1q encapsulation. Impress your potential employers and get hired for that full-time position.
Job titles include:
Network Engineer
Senior Network Engineer
Network Administrator
» Learn more about Network and Computer Systems Administrator careers
Contact Information
Cisco Networking Program
Computer Studies Department
Michael McKeever
Cisco Networking Program Coordinator
mmckeever@santarosa.edu
(707) 778-3960
Call Building PC 679 / Petaluma
Program Literature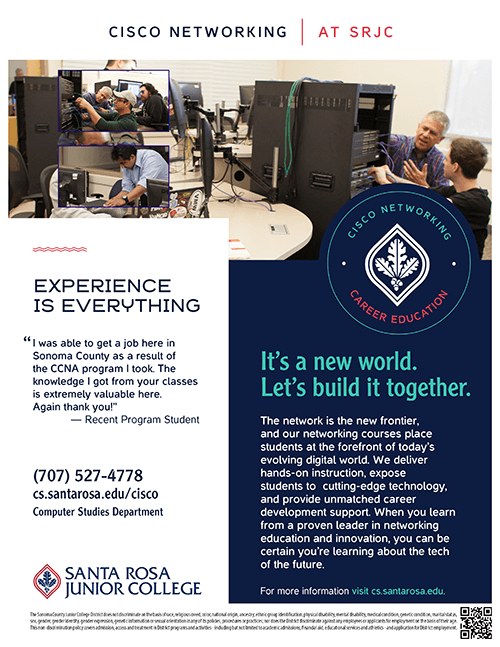 Online Resources