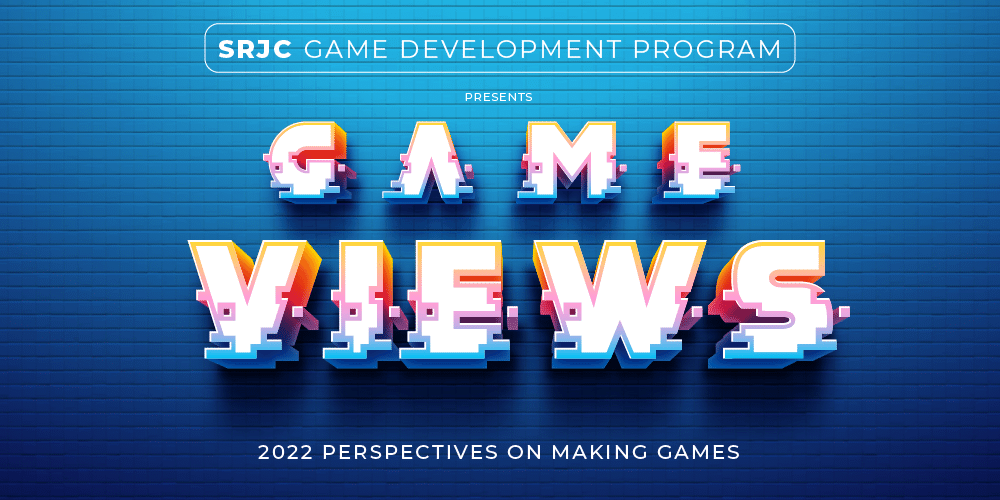 Now that our inaugural speaking series has ended, we invite you to watch the recorded presentations from our speakers!
The Santa Rosa Junior College Game Development Program is pleased to invite SRJC students, staff, faculty, and members of the public to our monthly speaking series exploring perspectives on the creation of games.
Presentations at 6:00pm on the last Thursday of each month from January through May, 2022.
All talks online via Zoom
Presentation Schedule
"NFTs and Games"
Pavan Katepalli, Yomi Games + Oni Squad ⓘ

Pavan is the Founder and CEO of Yomi Games, a web3 crypto gaming company. Yomi's first game, the Oni Mansion Gaming Event, is a free-to-play metaverse game bringing multiple NFT communities to socialize and collaborate to build elaborate new digital assets. The game features an entirely innovative bridge-less and gas-less experience, made possible with an oracle built into the game's smart contracts. To celebrate the launch of the Oni Mansion game, the Oni Squad collection was launched as a free mint on January 9th and minted out within 2 hours. Oni Squad quickly reached over 300 ETH in trading volume within the first 24 hours, reaching #1 on OpenSea (the leading secondary NFT marketplace) by hourly trading volume and top #20 in 24-hour volume.
Before Oni Squad, Pavan was a Blockchain Architect for Joseph Lubin, the Co-Founder of Ethereum, and served as Chief Learning Officer and an early CTO for Trilogy Education Services. Trilogy was acquired in 2019 for $750m, making it the most prominent education exit in the last decade. Pavan has invested $1m into early-stage companies, 50% of which are women-led.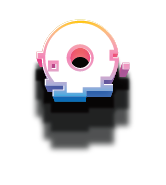 "Designing Non-Digital Games: An Interview with Dr. Eric B. Vogel"
Dr. Eric B. Vogel, Game Designer ⓘ

Dr. Eric Vogel's game design career began in 2004 with "Land of Psymon," a psychotherepeutic game intended to teach children cognitive behavioral therapy skills by showing them how to defend against psychological monsters ("psymon") that represent negative thinking and common cognitive distortions.
In 2008, with the "Cambria" board game produced by Sandstorm Productions, Vogel began producing more mass-market releases. To date, his most successful has been "The Dresden Files Cooperative Card Game," which raised over a half-a-million dollars in a Kickstarter campaign. This was produced as part of an ongoing partnership with Evil Hat Productions that has resulted in several releases. Dr. Vogel has designed other games, including "Kitara," "Kaiju Incorporated," "Zeppelin Attack," "Don't Turn Your Back" (Evil Hat Productions), "Romans Go Home' (Editions Lui-Meme), and "Hibernia." He is also a clinical psychologist and psychology professor at the John F. Kennedy School of Psychology at National University in Pleasant Hill, California. Eric is the 2009 winner of the Eugene Benjamin Sagan award for Outstanding Teaching in Psychology.
"Breaking into Video Games: Career Strategies"
Shawn Nelson, Instructor + 2K Recruiter ⓘ

Shawn Nelson has many years of experience in animation and game production. He has worked on award-winning game titles in the AAA, PC, and mobile spaces. Mr. Nelson has worn many hats over the years, with film and television credits as well as clients in advertising and education. He has taught for the past twenty years at schools including Academy of Art University and SAE Expression College. Shawn is currently involved in screening job candidates as a Senior Sourcing Specialist for 2K Games in Novato.
"Creating Board Games for Change"
Dr. Alexis Pulos, SRJC Instructor ⓘ

Dr. Alexis Pulos is currently a media studies instructor in the communication department at SRJC. Previously, he has taught classes on board game design, games in everyday life, games and culture, and critical play. From these courses he has worked with students to self-publish games about exploding goblins, the multiverses of pop-culture, and angelic gem collectors which students have presented at Gen-Con and the Origins Game Fair. He has also worked with students to produce more critical games on Queer identity, narrative development, and border politics.
His current academic work focuses on the ways agency and meaning are structured and produced through the design of information systems within games, film, and streaming media. Alexis has been published in the Journal of GLBT Family Studies; Communication, Culture & Critique; Games and Culture; and has edited two books on Video Games in East Asia. He received his Ph.D. from the University of New Mexico in 2013, where he studied rhetoric and videogames, and his M.A. from Colorado State University in 2009, where he studied rhetoric and media.
"Pursuing a Four-Year Game Degree: Life After SRJC"
Gregor Gonzales, SRJC Game Development Program Alumnus ⓘ

Join SRJC alumnus Gregor Gonzales for a conversation about life in a four-year game development degree program. Gregor is a graduate of the Game Development Program at SRJC, graduating with an AS degree in Game Development. After completing his studies at SRJC, Gregor enrolled in and completed the four-year B.S. in Games degree program at the University of Utah. Gregor has just completed his capstone senior game project at UU, and received his bachelor's degree this spring. He will share his experiences evaluating and enrolling in a four-year program, as well as the kind of courses, expectations, and project-based learning, one can expect while pursuing a four-year degree in games. Gregor's senior game project "Comrade Duck" is available on Steam.