Become a Web Developer in 26 Weeks
All Courses Offered Online
Web development is a fast-growing career track, and the SRJC Web Dev Bootcamp teaches you the specialized skills you need to tap into this rewarding industry. Through a fast-paced, immersive curriculum, you'll learn the skills needed to become proficient in front-end web and mobile development.
---
Learn through a rigorous curriculum that covers...

HTML5

CSS3

JavaScript

Bootstrap Framework

WordPress CMS

Vue.js

React.js

Node.js

App Creation

Accessibility

User-Centered Design

Agile Methodology
Gain Real-World Experience
As you embark on this 26-week journey, you'll dive into a challenging curriculum and learn more than you thought was possible. With a virtual classroom environment and collaboration with your classmates, you will get hands-on experience in front-end development. The bootcamp begins every June as part of the Summer semester.
---
Study part-time while maintaining your work schedule
Simulate
a professional work environment by teaming up with your peers and put your new skills into practice on complex projects.
Gain
access to additional courses that cover additional in-demand technologies, including server-side development, advanced user experience, and team-based web and mobile projects for real-world clients.
Receive
a Skills Certificate from Santa Rosa Junior College that demonstrates your achievements.
Benefit
from a wide set of career services: resume support, technical interview preparation, portfolio reviews, soft skills training, coaching, job matching, and more to help you launch or advance your career.
---
Learning to code is an intensive undertaking
If you are craving to expand your knowledge and join the tech world, seeking to advance or change careers, and most importantly: ready to roll up your sleeves and work HARD... then the SRJC Web Dev Bootcamp could be the life-changing move you've been looking for.
Schedule
Bootcamp Schedule
Summer 2023
Fall 2023
CS 50A: Web Dev 1
CS 50B: Web Dev 2
CS 50C: Web Dev 3
June 12 - August 9, 2023
August 14 - December 15, 2023
"Immediately after graduating, I obtained a great job in San Francisco as a UI/UX Engineer. I now work on Fortune 500 companies' websites using the skills I learned at SRJC."
— Recent Web Program Graduate
Recent Graduates
Graduates of this program have gone on to continue their education at four-year schools in the UC and CSU systems, secure employment at firms such as BusinessWire and The Idea Cooperative, and self-publish independent websites and mobile app titles.
Career Paths
Web and mobile development is one of the fastest growing career paths in the world. California leads the nation for web and mobile development careers by number of employees. The San Francisco Bay Area has the second-highest web and mobile development employment per capita nationally.
Job titles include: Web Developer, Front End Developer, Full Stack Developer, Web Designer, UI Designer, UX Designer, Interaction Designer, Front End Engineer, Full Stack Engineer
Labor Statistics
Labor Statistics

| | |
| --- | --- |
| Web Developers median pay | $82,370 per year |
| Software Developers median pay | $111,620 per year |
| Web Developers job outlook, 2018-28 | 13% growth |
| Software Developers job outlook, 2018-28 | 21% growth |
» Learn more about Web Developer careers
» Learn more about Software Developer careers
» Learn more about Web Developer and Digital Interface Designer labor statistics
» Learn more about Software Developer labor statistics
Contact Information
Web Development Program
Computer Studies Department
Ethan Wilde
Web Development Program Coordinator
ewilde@santarosa.edu
(707) 527-4855
Maggini Hall 3rd Floor, Room 2937, CS Dept Office
Program Literature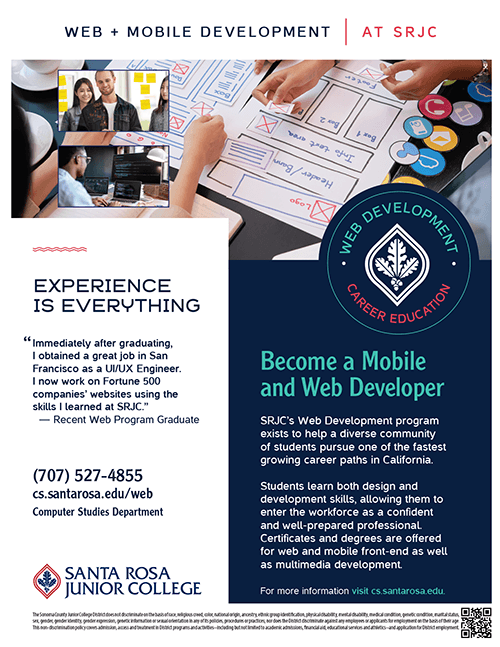 » Download the SRJC Web Development Program flyer